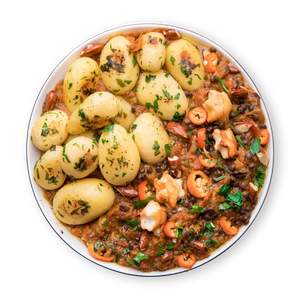 Indian Eggplant Curry with Poatoes
Enjoy our vegan recipe Indian Eggplant Curry with Poatoes by feastr. Ideal to lose weight. Balanced and very tasty.
Recipe instructions:
1
Preheat the oven to 350 °F.
2
Halve the eggplant lengthwise. Line a baking tray with parchment paper. Rub the eggplants with olive oil and place them on the baking tray with the cut the surface pointing downwards.
1 Eggplant (~ 11.3 oz)

½ tsp Olive oil
3
Peel the potatoes, transfer to the baking tray, sprinkle with oil and season with salt and pepper.
4
Bake for approx. 40 minutes on the middle rack of the oven.
5
Finely dice the onion, garlic, and ginger and put in a bowl.
6
Dice the tomatoes, coarsely chop the cilantro and put in a second bowl.
7
Heat the oil in a non-stick frying pan over medium heat. Add the onions, garlic, and ginger and fry until the onions turn translucent.
1 tsp Canola oil
8
Add the agave syrup and caramelize for approx. 30 seconds. Stir constantly.
1 tsp Agave syrup
9
Add the tomatoes, cilantro, curry powder, garam masala, salt, and pepper and fry for approx. 5 minutes stirring occasionally.
¾ tsp Curry powder

Salt

Black pepper

¾ tsp Garam masala
10
Add the vegetable broth and lentils and let simmer for 20 minutes.
¾ cup Vegetable broth

2 ⁠½ Tbsp Red lentils
11
Turn off the oven and take out the eggplants. With a spoon, scrape the pulp out off the eggplants. Finely chop the pulp, add to the pan and let simmer for approx. 10 minutes.
12
Serve the potatoes with the eggplant curry.