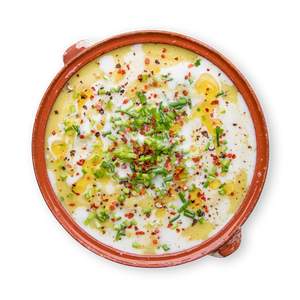 Indian Cauliflower Yogurt Soup
Enjoy our vegan recipe Indian Cauliflower Yogurt Soup by feastr. Ideal to lose weight. Balanced and very tasty.
Recipe instructions:
1
Bring a pot of salted water to a boil.
Salt
2
Remove the cauliflower florets from the stem. Cut off approx. 1 in of the end of the stem, peel and cut the rest into bite-size pieces. Peel and dice potatoes. Cook the cauliflower florets, stem, and potatoes in boiling water until soft and drain them.
10.6 oz Cauliflower (w/o stem)

3.5 oz Potatoes (w/o skin)
3
Drain and put the vegetables in a bowl.
5
Heat the canola oil in the pot over low heat.
1 Tbsp Canola oil
6
Fry the turmeric, garam masala, coriander, curry, crushed pepper and garlic for approx. 30 seconds.
¼ tsp Turmeric, ground

½ tsp Garam masala

¼ tsp Coriander, ground

1 tsp Curry powder

½ tsp Crushed pepper
7
Stir in the vegetable broth. Add the cauliflower and potatoes let simmer for approx. 2-3 minutes and turn off the heat.
8
Blend the soup with an immersion blender and stir in the yogurt. Season with salt and pepper.
Salt

Black pepper

1⁄3 cup Soy yogurt