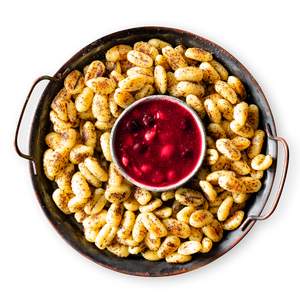 Gnocchi with Cherry Sauce
Gnocchi have to be a hearty dish? Caramelized gnocchi with our vanilla cherry sauce will convince you otherwise.
Recipe instructions:
1
Transfer the cherries into a pot with the same amount of juice.
2
Mix the starch according to the package instructions and add with agave syrup and vanilla, bring to a boil and turn off the heat.
2 tsp Cornstarch

1 tsp Agave syrup

Vanilla extract
3
Heat the canola oil in a non sticking frying pan on medium heat. Add the gnocchi and fry until golden brown. Add the agave syrup and poppy seeds and let caramelize briefly.
4
Serve the gnocchi with the cherry sauce.