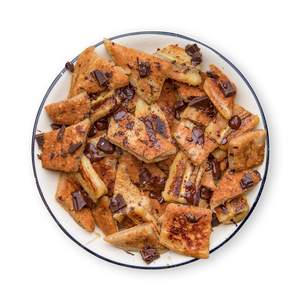 Chocolate Pancake Scramble with Fried Bananas
Enjoy our vegan recipe Chocolate Pancake Scramble with Fried Bananas by feastr. Ideal to lose weight. Balanced and very tasty.
Recipe instructions:
1
Halve half of the bananas and set aside. In a bowl mash the other half and mix with soy milk.
2
Add the flour, baking powder, and a pinch of salt to the banana-milk mixture and whisk until your batter is smooth.
3
Heat the canola oil in a non-stick frying pan over medium heat. Add the batter and fry for approx. 3-4 minutes until the bottom starts to brown.
1 tsp Canola oil
4
Turn with a spatula and bake for approx. 2-3 minutes until golden brown. Slide the pancake onto a work surface and cut into bite-size pieces.
5
In the same pan, heat the oil over medium heat. Fry the banana halves on both sides until golden brown and remove from the pan. Add the Kaiserschmarrn pieces back into the pan and heat briefly.
1 tsp Canola oil
6
Chop the chocolate coarsely. Serve the Kaiserschmarren with fried banana, apple sauce and top with the chocolate.