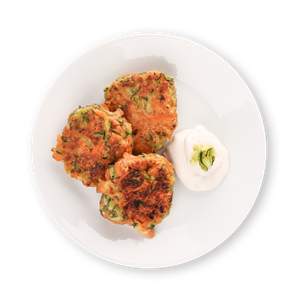 Carrot Zucchini Fritters
Enjoy our vegan recipe Carrot Zucchini Fritters by feastr. Ideal to lose weight. Balanced and very tasty.
Recipe instructions:
1
Grate zucchini and carrots, put in a bowl, salt generously and let sit for approx. 20 minutes.
1 Zucchini (~ 7.8 oz)

2 Carrots (~ 6.7 oz)

Salt
2
Finely chop the onion, basil, and garlic and put in another bowl.
1 Onion, yellow (~ 2.8 oz)

1 Garlic clove (~ 0.1 oz)

8 leaves of Basil, fresh (~ 0.1 oz)
3
Mix the egg substitute according to the package instructions and add to the bowl containing the garlic and add nutmeg, salt, and pepper.
4
Preheat the oven to 350 °F.
5
Place the grated zucchinis and carrots in a kitchen towel, close tightly and squeeze as much excess water out as possible.
6
Add the zucchini, carrots, and flour to the bowl and mix well.
7
Form fist-sized, approx. ¾ in thick patties. Drizzle with olive oil and bake in the oven for approx. 25 minutes until golden brown.
2 tsp Olive oil
8
Finely chop the chives and put in a bowl. Add the yogurt, balsamic vinegar and stir until creamy. Season with salt and pepper.
¼ bunch of Chives, fresh or frozen (~ 2 Tbsp)

½ cup Soy yogurt

1 ⁠½ tsp Balsamic vinegar

Salt

Black pepper
9
Serve the patties with the dip.