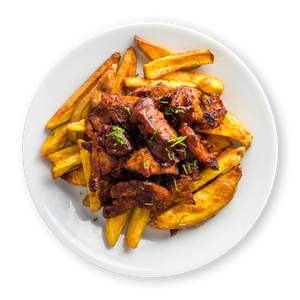 Vegan Barbecue Strips with Crispy Fries
Enjoy our recipe Vegan Barbecue Strips with Crispy Fries by feastr. Ideal to lose weight. High Protein and very tasty.
Recipe instructions:
1
Preheat the oven to 400 °F. Peel and cut the potatoes into approx. ½ in thick fries. Put them in a bowl and mix with the olive oil and salt.
2
Place vegan meat strips in a pot, cover with water and bring to a boil. Add the soy sauce and tomato paste and cook for 5 minutes.
3
Spread the fries on a baking tray lined with parchment paper and bake in the oven for approx. 20 minutes. Turn the fries halfway through the cooking time.
4
Drain the vegan strips and as soon as they have cooled squeeze out excess water.
5
Heat the canola oil in a non-stick frying pan over high heat. Fry the vegan meat substitute until golden brown. Add the barbecue sauce and fry for another 3-4 minutes.
2 tsp Canola oil

1⁄3 cup Barbecue sauce
6
Serve the barbecue strips with your crispy fries.