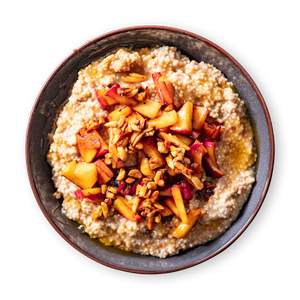 Apple Pie Quinoa Bowl
Enjoy our vegan recipe Apple Pie Quinoa Bowl by feastr. Ideal to lose weight. Balanced and very tasty.
Recipe instructions:
1
Wash the quinoa with hot water, put in a pot, add milk, vanilla and a pinch of salt and cook over medium heat until it starts to boil.
2
Put the lid on top of the pot. Let simmer over low heat for approx. 20 minutes until the quinoa has absorbed the liquid and is cooked. Stir occasionally. Let sit for 5 minutes before continuing.
3
Finely dice the apple.
1 Apple (~ 6.3 oz)
4
Toast the almonds on medium heat in a non-stick frying pan without oil until golden brown. Add the apples, cinnamon and agave syrup and caramelize for 1-2 minutes. Stir occasionally.
5
Put the quinoa in a bowl and mix with agave syrup and apple sauce and top with the apple-almond mix.