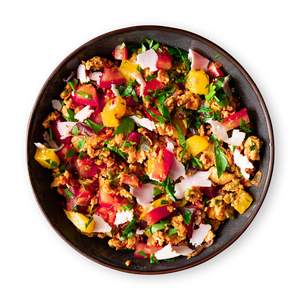 Turkish Eggbowl with Chicken
Enjoy our recipe Turkish Eggbowl with Chicken by feastr. Ideal to lose weight. High Protein and very tasty.
Recipe instructions:
1
Dice the pepper, finely chop the onion, quarter the tomatoes and dice the chicken.
½ Bell pepper, red (~ 2.6 oz)

½ Onion, red (~ 1.5 oz)

2.5 oz Cherry tomatoes

1.8 oz Roasted chicken breast, sliced
2
Heat the olive oil in a non stick frying pan. Add the onion, chicken breast and peppers into the pan and fry until the onions turn translucent.
1 tsp Olive oil
3
Add tomatoes, paprika, chili, salt and pepper into the pan and fry for approx. 1-2 minutes.
4
Turn the heat to low, add the eggs into the pan fry for approx. 3-5 minutes until the eggs start to set.
2 Eggs (~ 3.9 oz)
5
Finely chop the parsley. Serve the eggs with the roll and top with parsley.
1 twig of Parsley, fresh or frozen (~ ½ tsp)

1 Whole wheat roll (~ 2.1 oz)