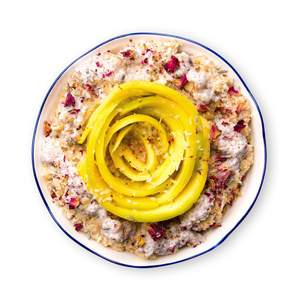 Tropical Mango Chia Oats
Enjoy our vegetarian recipe Tropical Mango Chia Oats by feastr. Ideal to lose weight. Balanced, quick, and very tasty.
Recipe instructions:
1
In a pot bring the oats, water, coconut milk and chia seeds to a boil. Cook until creamy, stirring constantly.
2
Put the oatmeal in a bowl and stir in the yogurt.
2⁄3 cup Low fat yogurt
3
Cut the mango into bite-size pieces. Top the chia-oatmeal with the mango.
½ Mango (~ 5.9 oz)