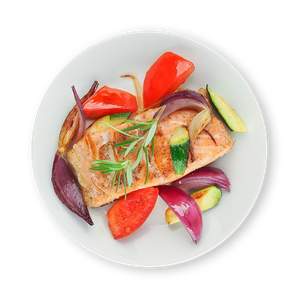 Tin Foil Baked Salmon on a Bed of Veggies
Enjoy our recipe Tin Foil Baked Salmon on a Bed of Veggies by feastr. Ideal to lose weight. Low Carb, High Protein, and very tasty.
Recipe instructions:
1
Preheat the oven to 400 °F.
2
Cut the onion into eighths. Cut the zucchini into quarters and cut into approx. 1 in slices, coarsely chop the pepper and put everything in a bowl.
3
Finely chop the garlic. Add the garlic and olive oil to the bowl and mix thoroughly. Season with salt and pepper.
4
Line a baking tray with tin foil and put the vegetables in the center.
5
Wash the salmon, pat dry and place onto the bed of the vegetables with the skin side down. Season generously with salt and pepper.
7.1 oz Salmon, fresh

Salt

Black pepper
6
Fold the sides of the tin foil up and over the top of the salmon, add the white wine and enclose completely.
1 ⁠½ Tbsp White wine
7
Seal the packet and bake for approx. 20-25 minutes.
8
Serve the salmon and veggies on a plate.