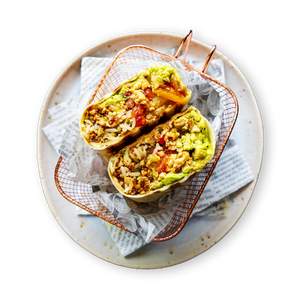 Texmex Burrito
Enjoy our recipe Texmex Burrito by feastr. Ideal to lose weight. Balanced and very tasty.
Recipe instructions:
1
Preheat the oven to 350 °F.
2
Dice the sweet potato, halve the onion, and slice them. Quarter the tomato, remove the seeds and place on a baking tray lined with parchment paper.
2.8 oz Potatoes (w/o skin)

½ Onion, yellow (~ 1.4 oz)

1 Tomato (~ 4.2 oz)
3
Add the spices and oil to the baking tray, mix well, add the minced meat and bake for 25 minutes.
4
Cook the rice according to the package instructions.
2 ⁠½ Tbsp Rice
5
Dice the veggies and herbs, season with lime juice, salt, and pepper.
6
Peel the avocado remove the pit and mash with a fork.
½ Avocado (~ 3.5 oz)
7
Spread the avocado onto the wraps. Top with rice, veggies, meat, and salsa. Fold up the bottom to cover the filling, then fold in the edges. Roll up to seal.