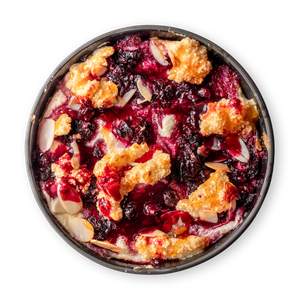 Sweet Semolina Casserole with Raspberries
Enjoy our vegetarian recipe Sweet Semolina Casserole with Raspberries by feastr. Ideal to lose weight. High Protein and very tasty.
Recipe instructions:
1
Take the raspberries out of the freezer and let defrost. Grease a baking dish with the oil. Preheat the oven to 350 °F.
2
Separate the eggs and beat the egg white until stiff. Set the egg yolk aside.
2 Eggs (~ 3.9 oz)
3
Bring the milk, honey and vanilla to a boil on medium heat. Add the semolina, whisk until creamy, turn off the heat.
4
Add the egg yolk and yogurt to the pot, mix well, fold in half of the beaten egg white and transfer to a baking dish.
5
Add the raspberries into the baking dish, cover with the remaining egg white, top with the almonds and honey and bake for 20-25 minutes until the egg white starts to brown.