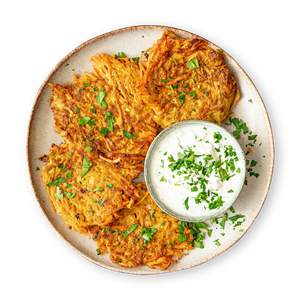 Sweet Potato Zucchini Fritters
Enjoy our vegetarian recipe Sweet Potato Zucchini Fritters by feastr. Ideal to lose weight. Balanced and very tasty.
Recipe instructions:
1
Peel and grate the carrot, zucchini and sweet potato and put in a bowl.
2
Add a generous amount of salt to the zucchini and sweet potatoes, let sit for 10 minutes, transfer to a kitchen towel, close and press as much liquid out of the veggies as possible. Transfer back into the bowl.
Salt
3
Add the egg, flour, salt, pepper, basil and thyme into the bowl and mix well.
1 Egg (~ 1.9 oz)

Salt

2 Tbsp Flour, all-purpose

Black pepper

½ tsp Basil leaves, dried

½ tsp Thyme leaves, dried
4
Add a few drops of the canola oil in a non-stick frying pan over medium heat. Add a scoop of dough into the pan, form round approx. ½ in thick fritters and fry until golden brown from both sides. Add a few drops of oil into the pan before frying the next Rösti.
1 Tbsp Canola oil
5
Season the greek yogurt with, salt, pepper, lemon juice and honey.
6
Serve the potato fritters with the yogurt dip.