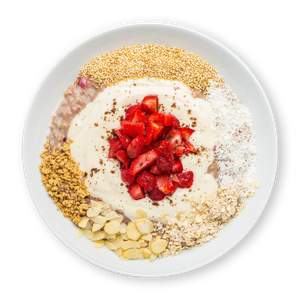 Strawberry Chia Oats
Enjoy our vegan recipe Strawberry Chia Oats by feastr. Ideal to lose weight. Balanced, quick, and very tasty.
Recipe instructions:
1
Put the oats and chia seeds in a bowl.
2
Stir in the cinnamon, vanilla, milk, and water. Let sit in the refrigerator for at least 10 minutes.
3
Dice the strawberries. Top the chia bowl with agave syrup, amaranth, coconut flakes, almonds, and strawberries.