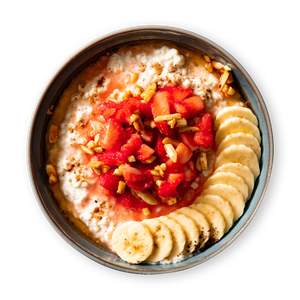 Strawberry Banana Oatmeal
Enjoy our vegetarian recipe Strawberry Banana Oatmeal by feastr. Ideal to lose weight. Balanced, quick, and very tasty.
Recipe instructions:
1
Heat the milk, oats, and cinnamon in a pot over medium heat until it starts to boil. Cook, stirring constantly until the porridge is creamy.
2
Turn off the heat and stir in the yogurt.
2⁄3 cup Low fat yogurt
3
Slice the banana and dice the strawberries. Serve the oatmeal and top with the bananas, strawberries, and almonds.