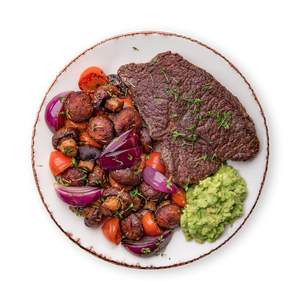 Steak with Oven Roasted Veggies and Guacamole
Indulge yourself with this juicy rump steak seasoned with garlic and rosemary. With a side of roasted tomatoes and mushrooms, served with guacamole.
Recipe instructions:
1
Take the steak out of the fridge, put on a plate and leave to rest for at least 15 minutes. If you want the perfect steak experience leave it to rest until the meat reaches room temperature.
7.1 oz Rump steak
2
Preheat the oven to 350 °F.
3
Clean the mushrooms, cut the tomatoes in half and put them both in a bowl. Add the olive oil, balsamic vinegar, and rosemary. Mix everything well, spread onto a baking tray and bake for 15 minutes in the oven.
4
Generously salt and pepper the steak.
Salt

Black pepper
5
Heat the canola oil in a non-stick frying pan over high heat. Fry the steak and turn it every minute. Each time you turn it, rub it with garlic and brush it with a rosemary twig.
1 twig of Rosemary, fresh (~ 0.1 oz)

1 tsp Canola oil

½ Garlic clove (~ 0.1 oz)
6
Remove the steaks from the frying pan to a plate and leave to rest for approx. 3-5 minutes.
7
In a bowl, mash the avocado flesh with a fork. Season with salt and pepper.
½ Avocado (~ 3.5 oz)

Salt

Black pepper
8
Serve the steak with guacamole and oven veggies.