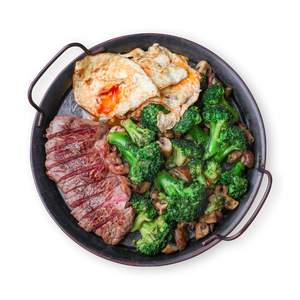 Steak and Eggs and Veggies
This pan-fried steak pairs perfectly with our oven-roasted broccoli and mushrooms. Put a sunny side up, fried egg on top, and done deal.
Recipe instructions:
1
Take the steake out of the fridge, put on a plate and leave to rest for at least 15 minutes. If you want the perfect steak experience leave it to rest until the meat reaches room temperature.
7.1 oz Rump steak
2
Preheat the oven to 350 °F.
3
Fill a pot with water and bring to a boil. Separate the broccoli florets from the stalk and blanch for 2-3 minutes. Remove from the water and rinse with cold water.
4
Quarter the mushrooms and add to a baking tray lined with parchment paper alongside the brokkoli. Add olive oil, season with salt and pepper, mix well and bake for 15-20 minutes.
3.5 oz Mushrooms

2 tsp Olive oil

Salt

Black pepper
5
Generously salt and pepper the steak. A ¾ in thick steak takes approx. 3-4 minutes per side until it is medium.
Salt

Black pepper
6
Heat the canola oil in a non-stick frying pan over high heat. Fry the steak and turn it every minute. Each time you turn it, rub it with garlic and brush it with a rosemary twig.
2 tsp Canola oil

½ Garlic clove (~ 0.1 oz)

1 twig of Rosemary, fresh (~ 0.1 oz)
7
Put the steak on a plate, leave to rest for approx. 5 minutes.
8
Heat the canola oil in the same frying pan as the steak, over medium heat. Add the eggs and fry until the whites are set, but the yolks are still runny. Flip the eggs and fry for an additional minute.
2 Eggs (~ 3.9 oz)
9
Slice the steak and serve with eggs and veggies.