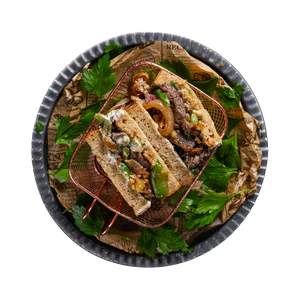 Crispy Steak and Cheese Sandwich
Looking for an easy and delicious sandwich for lunch or dinner? Look no further and try our steak and cheese sandwich.
Recipe instructions:
1
Take the steak out of the fridge, put on a plate and leave to rest for at least 10 minutes. If you want the perfect steak experience leave it to rest until the meat reaches room temperature.
7.1 oz Rump steak
2
Finely chop the parsley, add yogurt, and season with salt and pepper.
1 ⁠½ Tbsp Low fat greek yogurt

2 tsp Water

1 twig of Parsley, fresh or frozen (~ ½ tsp)

Salt

Black pepper
3
Halve the onion and slice. Core the bell pepper, cut into strips and set aside seperately.
1 Onion, yellow (~ 2.8 oz)

1 Bell pepper, green (~ 4.8 oz)
4
Halve the garlic. Heat the butter in a non-stick frying pan over high heat. Salt the steak from both sides, and fry it turning it every minute. Each time you turn it, rub it with garlic. Put the steak on a plate, leave to rest for approx. 3-5 minutes.
5
Toast the bread.
5.3 oz Whole wheat bread
6
Add the butter and onions into the pan and fry until the onions turn translucent. Add the bell pepper and fry for an additional 2-3 minutes.
1 ⁠½ tsp Butter
7
Cut the steak into strips and add into the pan alongside the cheese. Fry until the cheese starts to melt, and turn off the heat.
8
Spread the yogurt dip onto the bread top with the steak onion cheese mix and top with a second slice of bread. Wrap the sandwich in aluminum foil if you want to. If you got some leftovers in the pan you can eat it alongisde your sandwich.