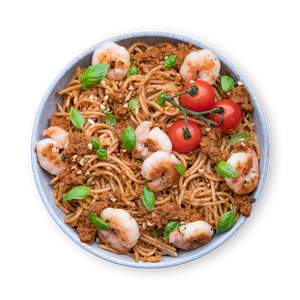 Spaghetti with Tomato Basil Pesto
Enjoy our recipe Spaghetti with Tomato Basil Pesto by feastr. Ideal to lose weight. Balanced and very tasty.
Recipe instructions:
1
Take the shrimps out of the freezer and place in a bowl with lukewarm water. Change the water after every minute until defrosted. Put the shrimps on a plate and carefully pat dry.
3.5 oz Shrimp, frozen
2
Toast the almonds on medium heat in a non-stick frying pan without oil until golden brown and set aside. Stir occasionally. Add the almonds to a bowl.
2 Tbsp Almonds, chopped
3
Cook the pasta according to the package instructions, then drain them, saving a mugful of the cooking water.
4
Drain the dried tomatoes, peel the garlic, and put them in the bowl alongside the olive oil and almonds.
2.1 oz Tomatoes, sun-dried, in oil

1 Garlic clove (~ 0.1 oz)

2 tsp Olive oil
5
Add the basil to the bowl. Blend with an immersion blender until your pesto is smooth and creamy. Grate the cheese and fold it in carefully.
6
Finely chop the garlic. Heat the olive oil in a pan over medium heat and fry the shrimps, garlic and chili for approx. 1-2 minutes from each side. Turn off the heat.
7
Sip by sip add the pasta water to your pesto and mix until you obtain the desired consistency. Add the pasta, mix well and top with the shrimps.