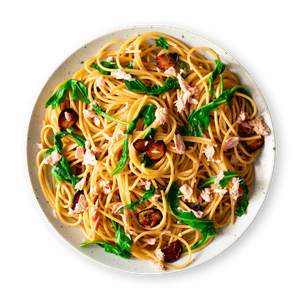 Spaghetti al Tonno
Enjoy our recipe Spaghetti al Tonno by feastr. Ideal to lose weight. Balanced and very tasty.
Recipe instructions:
1
Bring a pot with salted water to a boil.
Salt
2
Cut the garlic into thin slices and add into a bowl. Drain the tuna and set aside.
1 Garlic clove (~ 0.1 oz)

3.5 oz Tuna, canned in water
3
Add the spaghetti into your pot and cook according to the package instructions.
4
Heat the olive oil in a non stick frying pan over medium heat. Add the garlic and fry until the garlic starts to brown.
1 ⁠½ Tbsp Olive oil
5
Add the tuna into the pan and fry for approx. 2-3 minutes. Turn off the heat and add the rucola and yogurt into the pan.
1.1 oz Arugula

3 Tbsp Low fat yogurt
6
Rinse the pasta, add into the pan, sprinkle with lemon juice, season with salt and pepper, mix well and serve.
½ Lemon (~ 1 oz)

Salt

Black pepper