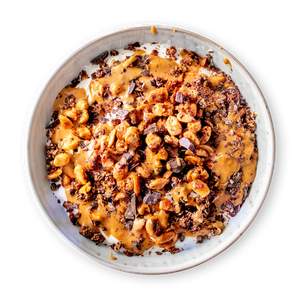 Snickers Bowl Creamy Snickers Bowl
Our Snickers Bowl should be on everyone's favorites list. Greek yogurt with peanut butter topped with roasted peanuts, oatmeal, and chocolate.
Recipe instructions:
1
Toast the peanuts on medium heat in a non-stick frying pan without oil until golden brown. Stir occasionally.
1 Tbsp Peanuts, roasted
2
Add the oats, cocoa powder and honey, fry for an additional 1-2 minutes and turn off the heat.
3
Mix the greek yogurt with peanut butter, honey, and milk and transfer into a bowl.
1 ⁠¼ cups Low fat greek yogurt

1 Tbsp Natural peanut butter

2 tsp Honey

2 Tbsp Low fat milk
4
Coarsely chop the chocolate. Top the yogurt with the peanut-oat mix, honey and chocolate.
0.4 oz Dark chocolate

1 tsp Honey