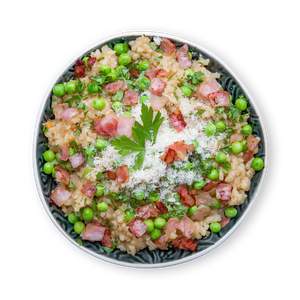 Risi e Bisi
Enjoy our recipe Risi e Bisi by feastr. Ideal to lose weight. Balanced and very tasty.
Recipe instructions:
1
Take the peas out of the freezer. Put them in a colander and let defrost.
2
Finely chop the garlic and onion and put them both into a bowl.
3
Heat the olive oil in a pot. Sauté the onions and garlic until the onions turn translucent.
1 tsp Olive oil
4
Add the rice and fry until translucent. Deglaze with white wine and let simmer for approx. 2-3 minutes.
½ cup Arborio rice

2 ⁠½ Tbsp White wine
5
Turn the heat to low. Stir in the vegetable broth, season with salt and pepper, put the lid on the pot and let simmer for approx. 20 minutes. Stir occasionally and let simmer until the rice is almost cooked but still has some bite to it.
1 cup Vegetable broth

Salt

Black pepper
6
Finely chop the parsley, cut the ham into bite-size pieces and grate the Parmesan.
7
Approx. 5 minutes before the end of cooking time, stir in the peas and let simmer for the remainder of cooking time. Remove from heat, stir in the ham, parsley, and Parmesan, let rest for 2-3 minutes and serve.