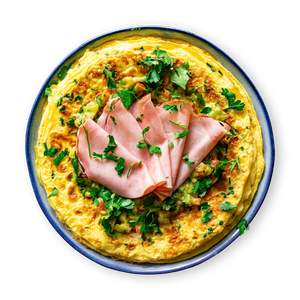 Protein Wraps with Ham and Guacamole
Enjoy our recipe Protein Wraps with Ham and Guacamole by feastr. Ideal to lose weight. Low Carb, High Protein, and very tasty.
Recipe instructions:
1
Finely chop the chives and put into a bowl. Add the eggs, milk, salt and pepper and mix well.
2
Heat a few drops of the olive oil in a non stick frying pan. Add as much egg batter into the pan until the bottom of the pan is completely covered. Fry until the egg starts to set. Flip the egg tortilla and fry for approx. 1-2 minutes until the egg sets. Take the egg tortilla out of the pan and repeat until you are out of batter.
2 tsp Olive oil
3
Peel and remove the pit from the avocado, put in a bowl and mash with a fork.
½ Avocado (~ 3.5 oz)
4
Finely chop the tomato and onion, add to the bowl and mix well.
½ Tomato (~ 2.1 oz)

½ Onion, red (~ 1.5 oz)
5
Season with salt, pepper, and lemon juice.
Salt

Black pepper

½ Lemon (~ 1 oz)
6
Spread the guacamole onto the egg tortillas, top with ham, roll up and serve.
3.5 oz Ham