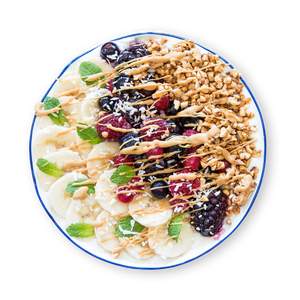 Almond Banana Protein Yogurt
Enjoy our vegan recipe Almond Banana Protein Yogurt by feastr. Ideal to lose weight. Balanced, quick, and very tasty.
Recipe instructions:
1
Toast the almonds on medium heat in a non-stick frying pan without oil until golden brown. Stir occasionally.
2
Put the almonds on a plate, turn off the heat, add the berries to the pan and defrost with the residual heat.
3
Mix the yogurt with agave syrup until creamy.
1 ⁠2⁄3 cups Soy yogurt

1 Tbsp Agave syrup
4
Finely chop the mint, slice the banana and serve with the yogurt, berries, and almonds.
5
Top with the peanut butter.