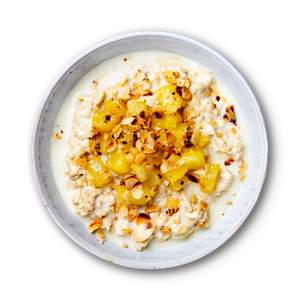 Pear Almond Oatmeal
Enjoy our vegetarian recipe Pear Almond Oatmeal by feastr. Ideal to lose weight. High Protein, quick, and very tasty.
Recipe instructions:
1
In a pot bring the oats, milk, and cinnamon to a boil. Cook until creamy, stirring constantly.
2
Remove from the heat, add the yogurt and stir until well combined.
3
Dice the pear.
1 Pear (~ 6.7 oz)
4
Toast the almonds on medium heat in a non-stick frying pan without oil until golden brown. Add the honey and pear and let caramelize.
5
Serve the oatmeal and top with the almonds and pears.