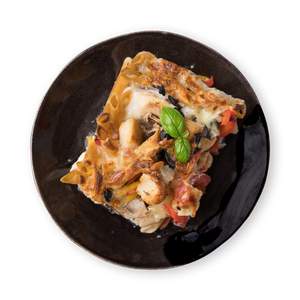 Mediterranean Pasta Casserole with Chicken
Enjoy our recipe Mediterranean Pasta Casserole with Chicken by feastr. Ideal to gain weight and build muscles. High Protein and very tasty.
Recipe instructions:
1
Cook the pasta according to the package instructions, drain and put in a baking dish.
2
Cut the mushrooms into quarters, halve the tomatoes, slice the pepper into thin strips. Add the mushrooms, pepper, tomatoes, and olives to the baking dish.
3
Finely chop the garlic and add into the baking dish. Cut the chicken breast into bite-size pieces.
4
Preheat the oven to 400 °F.
5
Heat the canola oil in a non-stick frying pan over high heat and fry the chicken breast pieces until golden brown and transfer to a baking dish.
1 tsp Canola oil
6
In a bowl, whisk the milk and eggs and season with salt and pepper.
¼ cup Low fat milk

3 Eggs (~ 5.8 oz)

Salt

Black pepper
7
Transfer the egg-milk mixture, basil, and rosemary into the baking dish and mix well. Slice the mozzarella thinly and top the casserole with it.
1 tsp Basil leaves, dried

1 tsp Rosemary leaves, dried

3.5 oz Mozzarella
8
Bake for approx. 20-30 minutes until the cheese is golden brown.