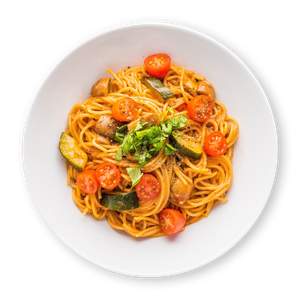 Mediterranean One Pot Pasta
Enjoy our vegan recipe Mediterranean One Pot Pasta by feastr. Ideal to lose weight. Balanced and very tasty.
Recipe instructions:
1
Halve the tomatoes. Cut the mushrooms into quarters. Finely chop the basil and put everything into a bowl.
2
Finely chop the garlic. Dice the zucchini and onion.
1 Garlic clove (~ 0.1 oz)

½ Zucchini (~ 3.9 oz)

1 Onion, yellow (~ 2.8 oz)
3
Heat the olive oil in a large pot over medium heat. Fry the onions, garlic and zucchinis until the onions turn translucent.
1 Tbsp Olive oil
4
Add the pasta, cherry tomatoes, mushrooms, tomato paste, crushed pepper, oregano, basil and water to the pot.
3.5 oz Spaghetti, whole grain

2 Tbsp Tomato paste

½ tsp Crushed pepper

1 tsp Oregano leaves, dried

1 ⁠¼ cups Water
5
Bring to a boil and let simmer, stirring occasionally until the pasta is al dente.
6
Season with salt and pepper.
Salt

Black pepper