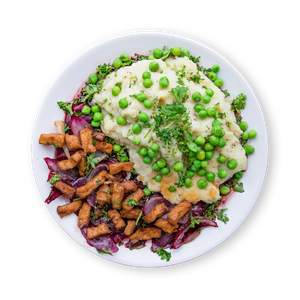 Mashed Potatoes with Peas
Enjoy our vegetarian recipe Mashed Potatoes with Peas by feastr. Ideal to lose weight. Balanced and very tasty.
Recipe instructions:
1
Prepare the vegan meat substitute strips according to the package instructions.
2
Bring a pot of water to a boil.
Salt
3
Peel and dice the potatoes into approx. ¾ in cubes. Add the potatoes to the pot and cook until tender.
4
Coarsely chop the onion and put on a plate.
5
Mix the red wine, balsamic vinegar, and honey in a bowl.
3 ⁠½ Tbsp Red wine

1 Tbsp Balsamic vinegar

1 ⁠½ tsp Honey
6
Heat the canola oil in a non-stick frying pan over medium heat and fry the soy chunks until golden brown. Add the onions and fry until translucent.
2 tsp Canola oil
7
Deglaze the onions with the red wine mixture. Reduce to around ½ and put it in a bowl.
8
Once the potatoes are cooked, add the peas, turn off the heat and wait for 2 minutes before draining them.
¾ cup Green peas, frozen
9
Add the milk to the potatoes and mash until creamy. Season with salt, pepper, and nutmeg. Cover to keep warm.
1⁄3 cup Low fat milk

Salt

Black pepper

¼ tsp Nutmeg, ground
10
Heat the red wine sauce and serve with the mashed potatoes.