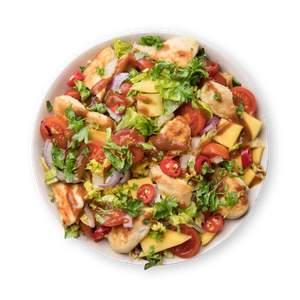 Mango No-Chicken Salad
Enjoy our vegetarian recipe Mango No-Chicken Salad by feastr. Ideal to lose weight. High Protein and very tasty.
Recipe instructions:
1
Slice the onion and put in a bowl.
1 Onion, red (~ 3 oz)
2
Heat the canola oil in a non-stick frying pan over high heat and fry the chicken substitute for approx. 3-4 minutes until golden brown.
3
Turn the heat to medium. Add the onions and fry until translucent. Add the honey and soy sauce and fry for approx. 1-2 minutes.
4
Put the chicken substitute and onions on a plate and pour the juice of the pan in a high sided container.
5
Peel and dice the mango and add a quarter of it into the container.
½ Mango (~ 5.9 oz)
6
Add the lime juice, oil and garlic and blend with an immersion blender until creamy. Season with salt and pepper.
½ Lime, organic (~ 0.7 oz)

½ Garlic clove (~ 0.1 oz)

Salt

Black pepper

1 tsp Canola oil
7
Rinse and drain the lettuce, cut into bite-size pieces, cut the tomatoes in half and put into a bowl.
8
Finely chop the chili and add to the bowl with the remaining mango cubes, chicken substitute, onions, and dressing. Mix thoroughly and serve.