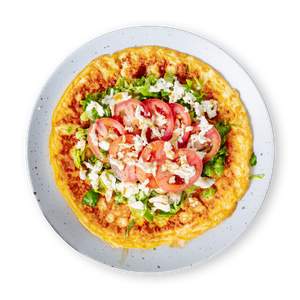 Italian Omelette Wrap
Enjoy our vegetarian recipe Italian Omelette Wrap by feastr. Ideal to gain weight and build muscles. Low Carb, High Protein, and very tasty.
Recipe instructions:
1
Finely chop the basil. Whisk the eggs in a bowl, season with salt and pepper and add the basil.
2
Heat the canola oil in a non stick frying pan. Add the egg mixture into the pan until the base of the pan is completely covered. Fry the egg mixture from both sides for approx. 1-2 minutes. Repeat until you are out of egg mixture.
1 tsp Canola oil
3
Slice the mozzarella and tomato.
2.1 oz Mozzarella

½ Tomato (~ 2.1 oz)
4
Top the omelette wraps with tomato, salad and mozzarella. Top with balsamico cream and basil, fold up the bottom to cover the filling then fold in the edges. Roll up to seal.
2 leaves of Lettuce (~ 0.6 oz)

1 ⁠½ tsp Balsamic glaze

5 leaves of Basil, fresh (~ 0.1 oz)