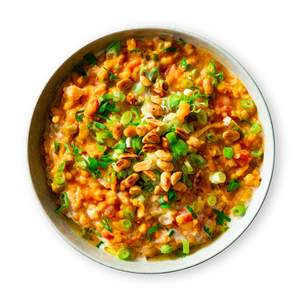 Indian Lentil Stew
Enjoy our vegan recipe Indian Lentil Stew by feastr. Ideal to lose weight. Balanced and very tasty.
Recipe instructions:
1
Place the lentils in a colander and rinse well with cold water.
½ cup Red lentils
2
Cut the green onion into rings and put in a bowl, finely chop the garlic and ginger and put in a second bowl. Dice the pepper and put in a third bowl.
½ Green onion (~ 0.6 oz)

½ Garlic clove (~ 0.1 oz)

¾ in Ginger (~ 0.4 oz)

½ Bell pepper, red (~ 2.6 oz)
3
Heat the olive oil in a pot over medium heat. Fry the garlic, ginger, curry powder and mustard for approx. 1 minute.
2 tsp Olive oil

1 tsp Curry powder

1 tsp Yellow mustard
4
Add the lentils and pepper cubes and fry them briefly. Pour in the vegetable broth and bring to a boil.
¾ cup Vegetable broth
5
Add the tomatoes and coconut milk and let simmer for approx. 15-20 minutes until the lentils are soft.
6
Toast the peanuts on medium heat in a non-stick frying pan without oil until golden brown and set aside.
1 ⁠½ Tbsp Peanuts
7
Stir in half of the green onions into the soup. Season with salt and pepper.
Salt

Black pepper
8
Serve on a plate and top with the remaining green onions and peanuts.