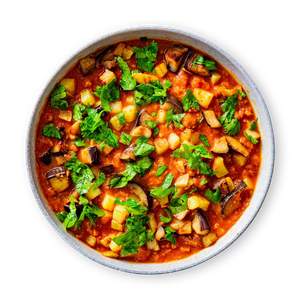 Indian Eggplant Potato Curry
Enjoy our vegan recipe Indian Eggplant Potato Curry by feastr. Ideal to lose weight. Balanced and very tasty.
Recipe instructions:
1
Dice the eggplant, transfer to a colander, salt generously and let sit for approx. 10 minutes. Peel and dice the potatoes into approx. ¾ in cubes and put in a bowl.
2
Bring a pot of water to a boil. Add the potatoes and cook until tender.
3
Crumble the tofu using a fork and put in a bowl.
2.6 oz Tofu
4
Finely chop the onion, tomatoes, ginger, and garlic and transfer to a blender. Blend until the paste is homogeneous.
½ Onion, yellow (~ 1.4 oz)

5.3 oz Tomatoes, diced, canned

¾ in Ginger (~ 0.4 oz)

1 Garlic clove (~ 0.1 oz)
5
Heat the olive oil in a pot over medium heat. Fry the tofu and cumin for approx. 3 minutes.
2 tsp Olive oil

1 tsp Cumin, ground
6
Add the blended mixture, coriander, chili, and turmeric powder. Mix well and continue to fry for approx. 5 minutes.
½ tsp Coriander, ground

½ tsp Crushed pepper

¼ tsp Turmeric, ground
7
Stir in the eggplant, potatoes, water and garam masala. Put on the lid and let simmer for approx. 7-10 minutes until the eggplant is cooked.
1 tsp Garam masala

½ cup Water
8
Season with salt and pepper. Coarsely chop the parsley and add to your bowl.