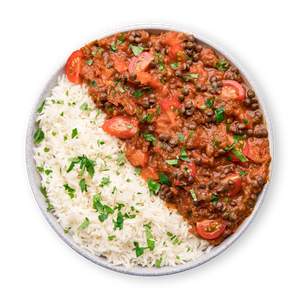 Indian Eggplant Curry with Rice
Enjoy our vegetarian recipe Indian Eggplant Curry with Rice by feastr. Ideal to lose weight. Balanced and very tasty.
Recipe instructions:
1
Preheat the oven to 350 °F.
2
Halve the eggplant lengthwise. Line a baking tray with parchment paper. Rub the eggplants with olive oil and place them on the baking tray with the cut the surface pointing downwards.
1 Eggplant (~ 11.3 oz)

½ tsp Olive oil
3
Bake for approx. 40 minutes on the middle rack of the oven.
4
Finely dice the onion, garlic, and ginger and put in a bowl.
5
Dice the tomatoes, coarsely chop the cilantro and put in a second bowl.
6
Heat the oil in a non-stick frying pan over medium heat. Add the onions, garlic, and ginger and fry until the onions turn translucent.
1 tsp Canola oil
7
Add the honey caramelize for approx. 30 seconds. Stir constantly.
1 tsp Honey
8
Add the tomatoes, cilantro, curry powder, garam masala, salt, and pepper and fry for approx. 5 minutes stirring occasionally.
¾ tsp Curry powder

½ tsp Garam masala

Salt

Black pepper
9
Add the vegetable broth and lentils and let simmer for 20 minutes.
¾ cup Vegetable broth

2 ⁠½ Tbsp Red lentils
10
Cook the rice according to the package instructions.
½ cup Basmati rice
11
Take the baking tray out of the oven. Using a spoon, scrape the pulp out of the eggplants. Chop finely add to the pan and let simmer for approx. 10 minutes.
12
Serve the rice with the eggplant curry and top with the yogurt.
3 Tbsp Low fat yogurt