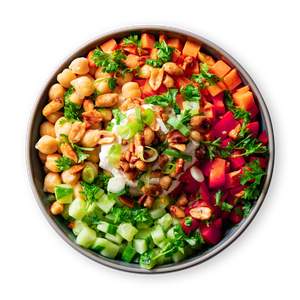 Indian Chickpea Salad
Enjoy our vegetarian recipe Indian Chickpea Salad by feastr. Ideal to gain weight and build muscles. Balanced, quick, and very tasty.
Recipe instructions:
1
In a colander, rinse and drain the chickpeas and put in a bowl.
2
Halve the cucumber lengthwise and cut into slices. Peel and slice the carrot. Cut the pepper into strips and add everything to the bowl.
3
Cut the green onion into thin rings, finely chop the peanuts and cilantro and add everything to the bowl.
4
In a bowl, mix the yogurt, olive oil, lime juice, cumin, and crushed pepper until creamy.
¾ cup Low fat greek yogurt

1 Tbsp Olive oil

½ Lime, organic (~ 0.7 oz)

½ tsp Cumin, ground

½ tsp Crushed pepper
5
Season the dressing with salt and pepper, sprinkle into the bowl, toss lightly until coated evenly.
Salt

Black pepper