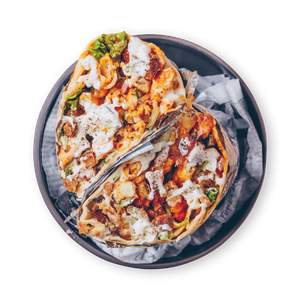 Gyros Wrap
Enjoy our recipe Gyros Wrap by feastr. Ideal to lose weight. Balanced and very tasty.
Recipe instructions:
1
Preheat the oven to 400 °F. Peel and cut the potatoes into approx. ½ in thick fries. Put them in a bowl and mix with the olive oil and salt.
2
Spread the fries on a baking tray lined with parchment paper and bake in the oven for approx. 20 minutes. Turn the fries halfway through the cooking time.
3
In a bowl mix the cream cheese with water and olive oil until creamy. Finely chop the garlic and add to the bowl.
4
Grate the cucumber, put in a kitchen towel and press as much water out of the cucumber as you can add to the bowl. Season with salt and pepper.
¼ Cucumber (~ 3.9 oz)

Salt

Black pepper
5
Slice the onion and chop the salad.
6
Heat the oil in a non-stick frying pan over medium heat. Add the meat and fry until they are crispy all over. Add the fries and barbecue sauce and fry for an additional 1-2 minutes and turn off the heat.
7
Spread the dip onto the tortillas.
8
Fill the tortillas with fries, meat, salat and onions and top with chili sauce.
9
Fold up the bottom to cover the filling then fold in the edges. Roll up to seal. Secure by wrapping with foil if you want.