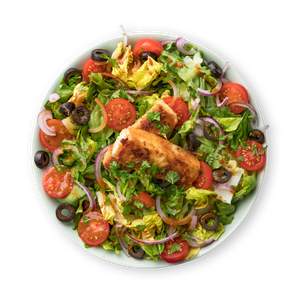 Greek Salad with Crispy Breaded Tofu
Enjoy our vegan recipe Greek Salad with Crispy Breaded Tofu by feastr. Ideal to lose weight. Balanced and very tasty.
Recipe instructions:
1
Cut the lettuce into bite-size pieces, cut the onion into strips, halve the tomatoes and add everything to a bowl.
2
Halve the olives, chop the parsley coarsely and add both into the bowl.
3
Add the agave syrup, balsamic vinegar, olive oil and mustard to a mason jar. Screw the lid on tightly and shake vigorously until combined. Season with salt and pepper.
1 ⁠½ tsp Agave syrup

2 tsp Balsamic vinegar

1 tsp Yellow mustard

2 tsp Olive oil

Salt

Black pepper
4
Cut the tofu into approx. ½ in thick slices.
5.3 oz Tofu
5
In a bowl, mix the egg substitute according to the package instructions, add the milk and whisk until combined.
6
Put the flour and breadcrumbs onto two separate plates. Place plates in front of you side by side. Arrange in the following order: flour, egg substitute, breadcrumbs.
7
One at a time, dredge the tofu strips in flour until the surface is covered. Dip into the egg-substitute to coat. Allow the excess to drip off for a few seconds, then roll in the breadcrumbs until coated.
8
Heat the canola oil in a non-stick frying pan over low heat and fry the tofu until golden brown.
1 tsp Canola oil
9
Drizzle the dressing over the salad and toss lightly until coated evenly and top with the breaded tofu strips.