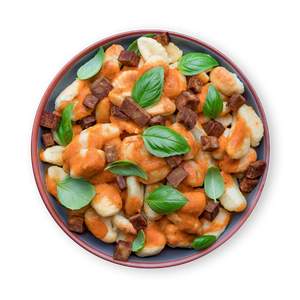 Gnocchi with Paprika Sauce
Enjoy our vegan recipe Gnocchi with Paprika Sauce by feastr. Ideal to lose weight. Balanced and very tasty.
Recipe instructions:
1
Dice the tofu. Heat the canola oil in a non-stick frying pan on medium heat. Fry the tofu and gnocchi until golden brown. Set aside.
2
Add the ingredients listed below into a high sided container.
¾ cup Vegetable broth

2 tsp Cornstarch

½ tsp Crushed pepper

Salt

Black pepper
3
Finely chop the shallot, garlic, and basil and drain the peppers. Add the peppers into the high sided container. Set the basil aside.
½ Shallot (~ 0.5 oz)

½ Garlic clove (~ 0.1 oz)

8 leaves of Basil, fresh (~ 0.1 oz)

3.2 oz Peppers, roasted, jar
4
Heat the olive oil in a non-stick frying pan over medium heat. Sauté the shallots and garlic until the shallots turn translucent and add into the high sided container. Blend with an immersion blender until smooth.
1 tsp Olive oil
5
Add the sauce to the pan and bring to a boil. Turn the heat to medium and let simmer until creamy.
6
Season with salt and pepper. Turn off the heat, add the gnocchi and tofu to the pan and warm with the residual heat. Serve and top with the basil.
Salt

Black pepper