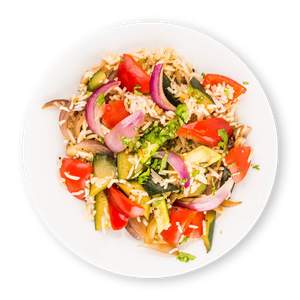 Fried Veggie Rice
Enjoy our recipe Fried Veggie Rice by feastr. Ideal to lose weight. Balanced and very tasty.
Recipe instructions:
1
Cook the whole grain rice according to the package instructions using vegetable broth instead of water.
2
Dice the onion, cut the green onion into rings and put both into a bowl.
3
Cut the zucchini lengthwise into halves and cut into slices. Clean the mushrooms and cut into quarters. Cut the pepper into thin strips and put everything into a second bowl.
4
Heat the olive oil in a pot over medium heat. Fry the onions and green onion until translucent.
1 ⁠½ Tbsp Olive oil
5
Add the peppers, zucchini, and mushrooms. Season with pepper and chili and fry them on high heat for approx. 6-7 minutes. Turn down your heat to medium.
Black pepper

½ tsp Crushed pepper
6
Add the rice and fry for approx. 2-3 minutes. Stir in the soy sauce, water and sugar and reduce it to about 1⁄3.
7
Chop the parsley. Serve the fried rice and top with the parsley.