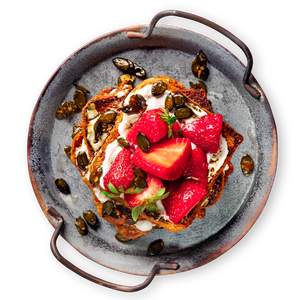 French Toast with Strawberries
Enjoy our vegetarian recipe French Toast with Strawberries by feastr. Ideal to lose weight. High Protein, quick, and very tasty.
Recipe instructions:
1
In a bowl, whisk the eggs, milk, and cinnamon.
2 Eggs (~ 3.9 oz)

2 ⁠½ Tbsp Low fat milk

½ tsp Cinnamon, ground
2
Heat the canola oil in a non-stick frying pan over medium heat. Soak the slices of bread in the egg mixture and fry until golden brown.
3
Dice the strawberries and mix with the yogurt.
4
Serve the toast with strawberry yogurt and honey.
1 ⁠½ tsp Honey