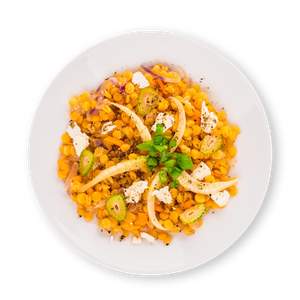 Feta Lentil Bowl
Enjoy our vegetarian recipe Feta Lentil Bowl by feastr. Ideal to lose weight. High Protein and very tasty.
Recipe instructions:
1
Place the lentils in a colander and rinse well with cold water.
½ cup Red lentils
2
Thinly slice the onion and finely chop the garlic and carrot and put everything in a bowl.
1 Onion, yellow (~ 2.8 oz)

1 Garlic clove (~ 0.1 oz)

1 Carrot (~ 3.4 oz)
3
Thinly slice the fennel and put in a bowl.
1 Fennel bulb (~ 8.3 oz)
4
Heat the olive oil in a pot over medium heat. Fry the onions, carrots and garlic until the onions turn translucent.
1 tsp Olive oil
5
Add the lentils and fennel and fry for approx. 2 minutes.
6
Add the vegetable broth and let simmer over medium heat until the lentils are cooked.
1 cup Vegetable broth
7
Coarsely chop the parsley and dice the feta.
5 twigs of Parsley, fresh or frozen (~ 1 Tbsp)

4.4 oz Feta cheese, reduced fat
8
Season the lentils with salt and pepper. Serve and garnish with the feta and parsley.
Salt

Black pepper