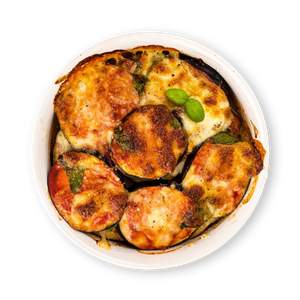 Eggplant Mozzarella Casserole
Enjoy our recipe Eggplant Mozzarella Casserole by feastr. Ideal to gain weight and build muscles. Low Carb and very tasty.
Recipe instructions:
1
Slice the eggplant into approx. ½ in thick slices, transfer to a clean kitchen towel, salt generously from both sides and let sit for approx. 10 minutes.
1 Eggplant (~ 11.3 oz)

Salt
2
Mix the tomato sauce, oregano and thyme and season with salt and pepper.
1 cup Tomato sauce, canned

½ tsp Oregano leaves, dried

½ tsp Thyme leaves, dried

Salt

Black pepper
3
Grate the Parmesan, coarsely chop basil and put in a bowl. Slice the mozzarella and put on a plate.
4
Preheat the oven to 350 °F.
5
Heat the canola oil in a non-stick frying pan over high heat. Fry the eggplant slices from both sides until golden brown, remove from the pan and set aside.
1 Tbsp Canola oil
6
Add a layer of eggplant slices into the baking dish. Add a layer of tomato sauce. Repeat with the remaining ingredients and make sure the top layer is tomato sauce.
7
Place the mozzarella slices evenly on top.
8
Bake for approx. 30 minutes until the mozzarella is golden brown.