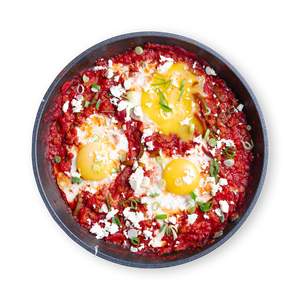 Easy Shakshuka
Enjoy our vegetarian recipe Easy Shakshuka by feastr. Ideal to lose weight. Low Carb and very tasty.
Recipe instructions:
1
Finely chop the garlic and slice the pepper, and onion.
1 Onion, red (~ 3 oz)

1 Garlic clove (~ 0.1 oz)

1 Bell pepper, green (~ 4.8 oz)
2
Heat the olive oil in a non stick frying pan over medium heat. Add the onions, garlic and pepper into the pan and fry until the onions turn translucent.
2 tsp Olive oil
3
Add the tomatoes, tomato paste, paprika, and cumin. Season with salt and pepper and and let simmer for 5 minutes.
1.3 lbs Tomatoes, diced, canned

3 Tbsp Tomato paste

½ tsp Hot paprika, ground

½ tsp Cumin, ground

Salt

Black pepper
4
With the back of a spoon form wells in the sauce for the eggs.
5
Crack the eggs into the wells. Put the lid on the pan and let simmer for approx. 7-8 minutes until the egg white sets and the yolk is still runny.
4 Eggs (~ 7.8 oz)
6
Cut the green onion into rings. Serve the Shakshuka, crumble the feta over it and top with the green onions.
1 Green onion (~ 1.2 oz)

3.5 oz Feta cheese