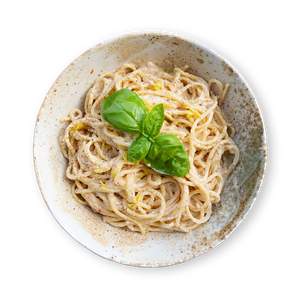 Creamy Lemon Pasta
Enjoy our recipe Creamy Lemon Pasta by feastr. Ideal to lose weight. Balanced and very tasty.
Recipe instructions:
1
Wash the lemon with hot water. Grate the lemon zest and squeeze the juice out of the lemon.
2
Prepare the spaghetti according to the package instructions. Before draining the pasta save some of the pasta water. You will need it later on in the recipe.
4.4 oz Spaghetti

1⁄3 cup Water
3
Cut the chicken into bite-size pieces. Heat the canola oil in a non-stick frying pan over medium heat and fry the chicken pieces until golden brown, season with salt and pepper and set aside. Make sure the chicken is fully cooked.
3.5 oz Chicken breast

1 tsp Canola oil

Salt

Black pepper
4
Heat the olive oil in a non stick pan over medium to high heat. Add the garlic and fry until it starts to brown.
1 tsp Olive oil
5
Deglaze with the lemon juice add lemon zest, salt, pepper, cream, pasta water, bring to a boil and let cook for approx. 10-15 min.
¼ cup Whipping cream

1⁄3 cup Water

Salt

Black pepper
6
Add cream cheese and chicken, let cook for an additional 5 minutes add spaghetti, turn off the heat and season with salt and pepper. Serve and top with parmesan and basil.
1 Tbsp Cream cheese

0.4 oz Parmesan cheese

leaves of Basil, fresh