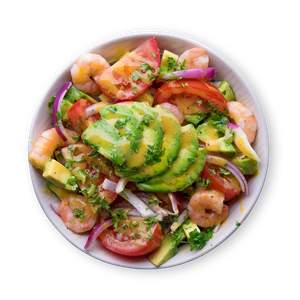 Creamy Avocado Shrimp Salad
Enjoy our recipe Creamy Avocado Shrimp Salad by feastr. Ideal to gain weight and build muscles. Balanced, quick, and very tasty.
Recipe instructions:
1
Take the shrimp out of the refrigerator and put it in a bowl.
4.4 oz Shrimp, cooked
2
Finely chop the onion, garlic, and parsley and transfer to the bowl.
½ Onion, red (~ 1.5 oz)

½ Garlic clove (~ 0.1 oz)

2 twigs of Parsley, fresh or frozen (~ 1 tsp)
3
Dice the avocado, halve the tomatoes and put everything in a bowl.
1 Avocado (~ 7.1 oz)

4.4 oz Cherry tomatoes
4
Add the ingredients mentioned below to a mason jar. Screw the lid on tightly and shake vigorously until combined. Drizzle it into the bowl and mix thoroughly.
5
Season the salad with salt and pepper and serve with the whole wheat rolls.