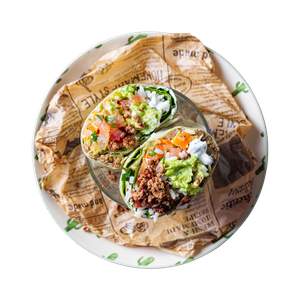 Classic Mexican Burrito
Our take on a classic dish from Mexico. Packed with delicious flavors and a good amount of protein.
Recipe instructions:
1
Preheat the oven to 350 °F.
2
Dice the sweet potato, halve the onion, and slice them. Slice the bell pepper and place on a baking tray lined with parchment paper.
3.5 oz Sweet potatoes (w/o skin)

½ Onion, yellow (~ 1.4 oz)

½ Bell pepper, green (~ 2.4 oz)
3
Add the spices and oil to the baking tray, mix well, add the minced meat and bake for 25 minutes.
4
Cook the rice according to the package instructions.
¼ cup Rice
5
Finely chop the parsley, mix with yogurt, and season with salt and pepper.
6
Dice the veggies and herbs, season with lime juice, salt, and pepper.
7
Peel the avocado remove the pit and mash with a fork.
½ Avocado (~ 3.5 oz)
8
Coarsely chop the salad.
9
Spread the yogurt dip onto the wraps. Top with salad, rice, veggies, meat, and avocado. Fold up the bottom to cover the filling, then fold in the edges. Roll up to seal.