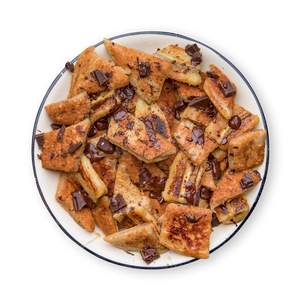 Chocolate Pancake Scramble with Fried Bananas
Enjoy our vegetarian recipe Chocolate Pancake Scramble with Fried Bananas by feastr. Ideal to lose weight. Balanced and very tasty.
Recipe instructions:
1
Separate the egg whites from the yolks. In a bowl, mix the yolks with milk. Beat the egg whites until stiff.
3 ⁠½ Tbsp Low fat milk

2 Eggs (~ 3.9 oz)
2
Add the flour, baking powder and salt to the milk and egg yolk and whisk to a smooth batter.
3
Add the egg whites to the bowl and fold in carefully.
4
Heat the canola oil in a non-stick frying pan over medium heat. Add the batter and fry for approx. 5 minutes until the bottom starts to brown.
1 tsp Canola oil
5
Cut the pancake into quarters using a spatula. (it is totally normal if the top part of the batter is still raw) Turn the pieces and bake for approx. 3-4 minutes until golden brown and tear into pieces.
6
Add the honey into the pan and caramelize the Kaiserschmarrn pieces for approx. 1-2 minutes, stirring occasionally. Put the Kaiserschmarrn pieces on a plate.
1 ⁠½ tsp Honey
7
Halve the banana lengthwise.
½ Banana (~ 2 oz)
8
In the same pan, heat the oil over medium heat. Fry the banana on both sides until golden brown. Add the Kaiserschmarrn pieces back into the pan and heat briefly.
½ tsp Canola oil
9
Chop the chocolate coarsely. Serve the Kaiserschmarren with fried banana, apple sauce and top with the chocolate.