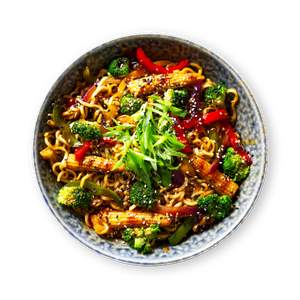 Chicken Teriyaki Noodles
Enjoy our recipe Chicken Teriyaki Noodles by feastr. Balanced and very tasty.
Recipe instructions:
1
Cut the chicken into bite size pieces, add the Teriyaki sauce, mix well and set aside.
4.4 oz Chicken breast

2 ⁠½ Tbsp Teriyaki Sauce
2
Take the broccoli out of the freezer and let defrost. Cut the bell pepper into strips and cut the onion into eights.
3
Finely dice the garlic and ginger. Prepare the noodles according to the package instructions.
4
Heat the oil in a non-stick frying pan. Add the chicken and fry until golden brown from each side. Set aside.
1 tsp Canola oil
5
Heat the oil in the non-stick frying pan over medium heat. Add the garlic, ginger and onion and fry for approx. 2-3 minutes until the onion starts to brown.
2 tsp Canola oil
6
Add the broccoli, pepper and mini corn and fry for an additional 2-3 minutes.
2.8 oz Baby Corn, canned
7
Add the teriyaki sauce, chicken, and noodles. Fry for an extra 2-3 minutes. Turn off the heat.
½ cup Teriyaki Sauce
8
Serve the noodles in a bowl. Cut the spring onion into slices. Top the noodles with spring onion and sesame.
½ Green onion (~ 0.6 oz)