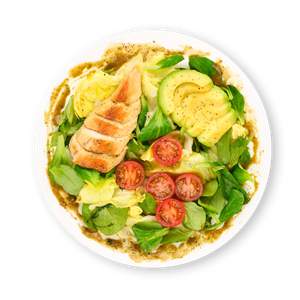 Chicken Shawarma Salad
Enjoy our recipe Chicken Shawarma Salad by feastr. Ideal to lose weight. Low Carb, High Protein, and very tasty.
Recipe instructions:
1
Finely chop the garlic and basil.
1 Garlic clove (~ 0.1 oz)

20 leaves of Basil, fresh (~ 0.2 oz)
2
Add the basil, garlic, olive oil and lemon juice and salt to a mason jar. Screw the lid on tightly and shake vigorously until combined.
1 ⁠½ Tbsp Olive oil

½ Lemon (~ 1 oz)

Salt
3
Set aside half of the dressing. Stir the curry powder, cumin, and coriander into the other half and use it as a marinade in the next step.
½ tsp Curry powder

¼ tsp Cumin, ground

¼ tsp Coriander, ground
4
Cut the chicken into ¾ in thin strips, add to the marinade and let sit for 10 minutes.
7.1 oz Chicken breast
5
Rinse and drain the lettuce and put into a bowl.
2.1 oz Lambs lettuce
6
Halve the tomatoes, dice the avocado and add both to the bowl.
3.5 oz Cherry tomatoes

½ Avocado (~ 3.5 oz)
7
Heat a non-stick frying pan over medium heat. Fry the chicken from all sides until golden brown and remove from the pan.
8
Drizzle the dressing over the salad and toss lightly until coated evenly. Serve with the chicken.