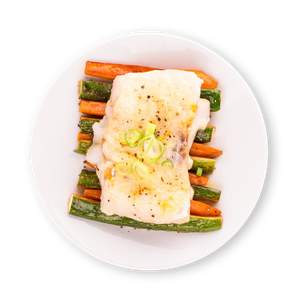 Cheesy Gratin Cod
Enjoy our recipe Cheesy Gratin Cod by feastr. Ideal to lose weight. Low Carb, High Protein, and very tasty.
Recipe instructions:
1
Place the cod in a bowl with lukewarm water. Change the water every minute until the cod is defrosted. Put on a plate and pat dry. Preheat the oven to 425 °F.
2
Grate the cheese and lemon zest. Cut the green onion into rings and add everything to a bowl.
3
Transfer the cod fillets to a baking dish, season with salt and pepper, brush with the olive oil and drizzle with the lemon juice.
Salt

Black pepper

1 Tbsp Olive oil

½ Lemon (~ 1 oz)
4
Spread the contents of the bowl and gouda evenly on top of the cod fillets and bake in the oven for approx. 13 minutes until the cheese turns golden brown.
5
Cut the zucchini and carrot into thin approx. ¾ in long strips.
1 Zucchini (~ 7.8 oz)

1 Carrot (~ 3.4 oz)
6
Heat the olive oil in a non-stick frying pan over medium heat. Fry the zucchini and carrot strips for approx. 7-8 minutes in it.
1 tsp Olive oil
7
Serve the carrots and zucchini strips with the fish.