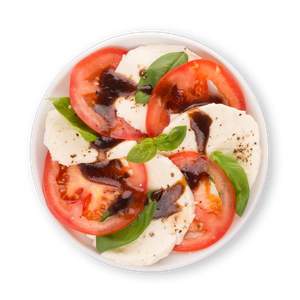 Caprese Salad
Enjoy our vegetarian recipe Caprese Salad by feastr. Ideal to gain weight and build muscles. High Protein, quick, and very tasty.
Recipe instructions:
1
Slice the tomatoes and mozzarella.
2
Place the tomato slices, alternating with mozzarella slices and basil, on a plate.
3
Drizzle with olive oil and balsamic vinegar and season with salt and pepper.
2 tsp Olive oil

1 Tbsp Balsamic vinegar

Salt

Black pepper